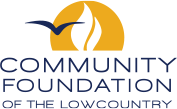 Holocaust Education Film Foundation has established the Holocaust Education Film Foundation Fund in partnership with the Community Foundation of the Lowcountry, a 501(c)(3) organization (See 501(c)3 Tax Determination Letter).   All contributions to the Fund are fully tax deductible as allowable by law.

About our strategic partner; Community Foundation of the Lowcountry:
Community Foundation of the Lowcountry was founded in 1994 with the mission of strengthening community by connecting people, resources and needs. We work with donors, nonprofits and community leaders to create positive, sustainable change. Through our work, we help foster academic achievement, build economic prosperity, achieve healthy ecosystems, encourage healthy people, support social enrichment and create vibrant neighborhoods.
Since our beginning, we have awarded more than 2,025 scholarships to deserving students and have invested over $66 million into our community via grants and scholarships through our 330-plus funds. We serve as a leader, convener, resource and catalyst to improve and enrich the quality of life.